The 4 Surprising Perks of Owning Amarillo Real Estate
Amarillo real estate has a lot of attractions for buyers, from first-time homeowners looking for the perfect place to raise a family to retirees who want to spend their golden years somewhere warm, friendly and unique. But there's a lot more perks to owning Amarillo real estate than just friendly people and well-priced homes. Here are four perks about living in Amarillo you may not know about.
The Natural Beauty
Amarillo is close to two of Texas' most beautiful places: Lake Tanglewood and Palo Duro Canyon. Both are surprisingly close to the city and offer some of the most gorgeous views and sunsets you'll see. Lake Tanglewood is popular for water sports and for picnicking by the water, while Palo Duro is home to some of the best and most scenic hiking trails in all of Texas. All of it is just a short drive away from almost any home in Amarillo.
Amarillo's Dynamic Downtown
Part of owning Amarillo real estate is living in Amarillo, of course, but people who come here for the first time are often surprised by just how diverse and dynamic the city can be, especially the revitalized downtown area. Dozens of different cuisines in top-end restaurants jockey with dancing, movies, theatrical productions, and other attractions to make Amarillo not just a place to live, but a place to enjoy.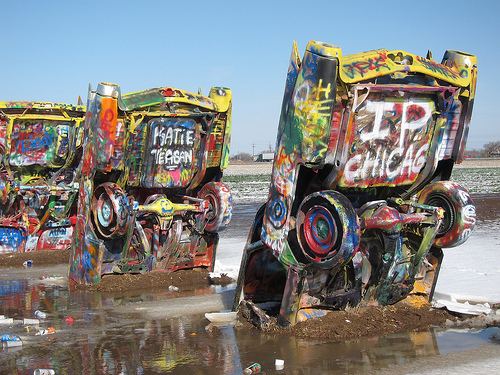 This is actually a famous art landmark.
The Art Scene
Amarillo is home to some of the most dynamic and unexpected art in Texas, and across the country. The city is home to some of the finest collections of Western art and artifacts you'll find, a happy consequence of the city's lengthy history and close ties to the growth and change of Texas. Much of the American West has thankfully been preserved in Amarillo, at institutions such as the Amarillo Museum of Art and the Panhandle-Plains Historical Museum, offering more insight into a part of America we only think we know.
It's also home to some of the more famous "outsider" art in the state. For example, nearby is the famous Cadillac Ranch, where several Cadillacs have gone from unusable junkers to an odd monument to the automobile that's drawn tourists from across the world.
The Family Fun to be Had
Amarillo has no shortage of family fun. Wonderland Park has been making happy family memories since 1951 when it was opened as "Kiddie Land" and sees nearly 200,000 visitors a year, open seasonally for those who want to get out of the house. The Don Harrington Discovery Center teaches children about space and the planets in a way that helps them to appreciate the wonder of the universe and the majesty of outer space. For older kids, and fans of horses, the American Quarter Horse Association makes its home in Amarillo and works with the community to put on shows and teach about the quarter horse and proper care and riding of animals.
In short, there's so much more to owning Amarillo real estate than just finding a home to live in. Whether you want to laugh, learn, or just have a fun night out, there's plenty to enjoy in Amarillo.
Photo credits: Charles Henry, Scott Beale
Google+