De-Coding Amarillo Real Estate: Which Neighborhood Fits You?
Each neighborhood has a different character. While any place in Amarillo is a great one to make a home, we're all looking for something different in the place where we live. Here's an overview of Amarillo's neighborhoods, and who they're best suited to.
Young Families
Families that are just starting out generally need two things: To be close to the schools, and room enough to grow in. If you've just added a little one to your family, you'll have enough to do without having to drive everywhere!
Neighborhoods To Look In: Puckett, Sleepy Hollow, and The Colonies will be places of particular interest to young families. They're close to good schools and have a range of prices that are friendly to somebody with a baby to factor into the budget.
Families With Older Children
Amarillo has several school districts, and while they're all some of the best the state has to offer, the most highly desirable is the Canyon school district. The good news is that while price pressure is generally pushing homes upward, there are still a number of neighborhoods in the Canyon district where a good home can be had.
Neighborhoods To Look In: In particular, families will want to look at City View, the Greenways, and River Falls. They're all in the Canyon school district and just as importantly, have a wide range of houses at varying prices that can fit many budgets.
Singles
If you're single in the Amarillo area, the city has a lot of offer in terms of fun, nightlife, and meeting new and interesting people. What you may not be sure on is where to live; a planned community and some of the neighborhoods on the edge of the city probably won't suit you in terms of travel time to and from the fun, so you'll want something closer to the city.
Neighborhoods To Look In: Puckett and Wolflin will likely be your best bet. Both are closer than some neighborhoods to the center of Amarillo, and Wolflin in particular is a neighborhood with unique curb appeal and a tree-lined beauty.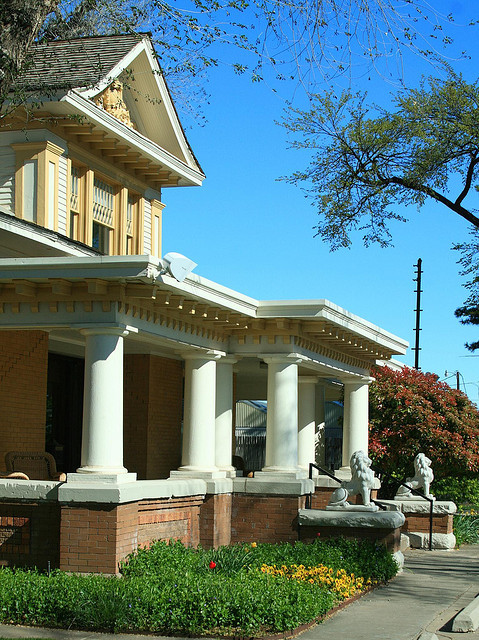 Amarillo is home to some amazing places.
Retirees
The children have moved out, you've moved on to a more leisurely second career, and you'd like to take it easy for a little while. The good news is that Amarillo is happy to accommodate you; there's plenty for a retiree to do in many neighborhoods.
Neighborhoods To Look In: The Woodlands, La Paloma, River Falls, and Westover Village will appeal in particular to retirees. The first three all have golf courses nearby, ranging from light on the inexperienced duffer to tough, professionally designed courses.
Vacation Homes
There are those of us who have made it to the point where we want a vacation home, somewhere to relax and unwind for a few weeks a year. Not all of us can swing it, but if you do, why not go for the deluxe version?
Neighborhoods To Look In: Lake Tanglewood and River Falls will be your best bet. Lake Tanglewood is near the water and has innumerable leisure opportunities, while River Falls is near Palo Duro and has gorgeous hiking and nature to explore.
No matter where you are in life, there's a home for you in Amarillo. Happy house hunting!
Photo credits: Kafkan, Amarillo Convention & Visitor Council
Google+