5 Things You Didn't Know Your Amarillo Realtor Can Do
Realtors are seen, primarily, as people who sell real estate. That's a key part of any realtor's job, whether they're in Amarillo or any other city. But realtors do a lot more than you might realize. Whether you're looking for a home in Amarillo or trying to sell one, here are some feats you didn't know your realtor can pull off for you.
Figure Out the Right Price
Realtors have, in addition to their own listings, access to a service called MLS, or multiple listing service. Essentially it's a service that can give you all the properties for sale in a given area, plus information on ones recently sold. That's important when you're buying because a realtor can spot a home that might be over- or under-priced. If you're selling, you can ensure your home is on the market for a price that will sell instead of having to guess.
Save You Time
If you've been looking for homes on your own, you know what a drag it can be. Open houses one after the other, and going through listings that you can find just to see if anything fits gets old fast. If you go to a realtor, and tell them exactly what you're looking for, they'll be able to come back with only homes you really want to look at. That's a two-way street, as well. If you're a seller who only wants to talk to buyers who will actually pick up your home, not just nose around your property and leave, realtors will have only committed buyers looking at your home.
Help You Find the Money You Need
Realtors know all the ins and outs of buying property, and they know what home buyers need to do to get financing. After talking about what you can afford, realtors can guide you to funding options you may not have thought about and give you advice on how to put together the down payment for a home. After all, it's in their best interest. A buyer who can afford a house is a lot easier to pair with a seller who wants to get paid for one!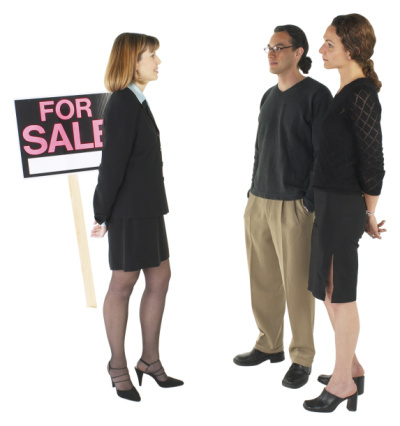 Realtors do more than put up signs.
Assess the Property Professionally
It's one thing to read a few articles on your phone before looking at a house and another to have an experienced, trained set of eyes look over the same house. Realtors know all the ins and out and subtle signs that a home might not be all that it's cracked up to be, whether they notice coded language in the listings that indicate it might not be as good as it looks. If you're selling a home, a realtor is objective. The little annoyances and quirks you've gotten used to in your house can make it harder to sell, but a realtor can spot them and help you get them fixed.
Walk You Through the Paperwork
Not surprisingly, buying a home is complicated to say the least, especially legally and financially. An experienced realtor knows exactly what's necessary for both the buyer and the seller, and can go through keeping track of paperwork, stopping problems before they start, checking titles and other paperwork, and making suggestions that will ensure that everyone involved is aboveboard according to the banks and the law.
Realtors are your helping hands when buying a home. If you don't have one, get in touch with one. You might be surprised just how helpful they are.
Google+